This year, we're so proud to be celebrating our 15th Anniversary. Since 2000, we've had the joy of helping thousands of children and adults develop skills and reach new milestones – one lesson at a time, but we couldn't have done it without you!
We'd like to extend a special thank you to all of you – our riders and their families, volunteers, donors and event sponsors – who have helped to make the past 15 years so special.
We'll be celebrating this milestone throughout the year by: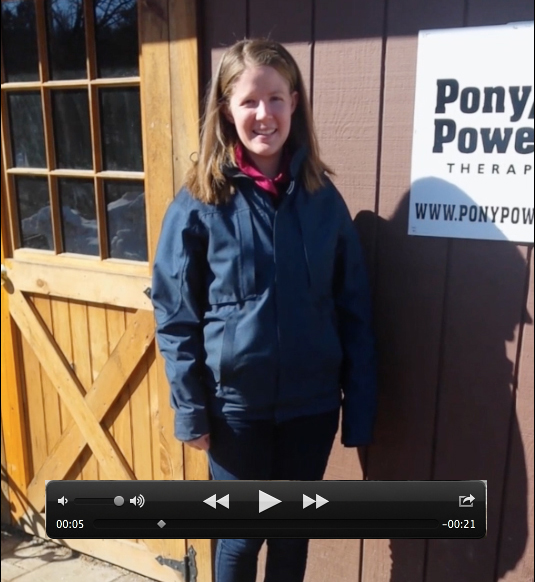 Sharing video testimonials each month from long-time staff, volunteers, rider families and others who have grown with us on our journey. Follow us at Facebook.com/PPTherapies to check them out!
Hosting a barbeque event on May 3 to acknowledge the hard work of past and present volunteers
Launching a newly designed Pony Power website that offers news from the farm and other pertinent information about our programs
Commemorating in festive ways at our annual fundraisers – the Golf & Tennis Outing on June 1 at Montammy Golf Club and the Fall Benefit Horse Show & Family Fair on October 11
Pony Power's office manager, Gabrielle, is celebrating a special anniversary, too! Click the image to watch her video message. Do you have a special Pony Power story that we can share as part of our anniversary celebration? Please let Kerry know at Kerry@ponypowernj.org!